Gourmet restaurant near Utrecht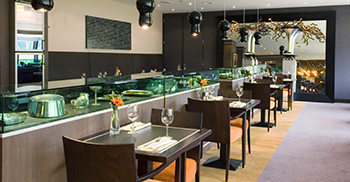 Fletcher Hotel-Restaurant Nieuwegein's Restaurant Zilver (Silver) takes its name from the nearby town of Silver Town Schoonhoven. The theme "Silver" is reflected in the decor of this cosy restaurant, where you will find display cabinets containing exquisite silver bowls and candlesticks, for example. A feast for the eye! Schoonhoven itself is also definitely worth a visit.
The Dutch Silver Museum there was recently named Discovery Museum 2015. Chef Dennis de Bloeme and his team prepare the generous breakfast buffet, delicious lunches and surprising dinners in Restaurant Zilver every day. The à la carte menu has been carefully compiled and the 3-course dinners which change every day are quite the culinary treat! Our staff will gladly serve a delicious matching wine to complete your dinner.